Punk Places To Go In San Francisco
San Francisco and the surrounding Bay Area have always had a huge punk rock scene. Bands who came out of the Bay Area include legends like the Dead Kennedys and Green Day. Along with the punk rockers, the Bay has been home to a thriving creative community. From graffiti artists like Twist to the original founders of Burning Man, San Francisco has been shaped by some of the most talented artists in the world.
Even though the growth of Silicon Valley has drastically changed the makeup of San Francisco, there still remain some amazingly cool places to visit in and surrounding San Francisco. These are the places that the artists, punk rockers, misfits, creative souls of the Bay Area helped form.
If you are a punk visiting San Francisco, these are a few places you should visit and a few songs to listen to while there.
Bound Together Books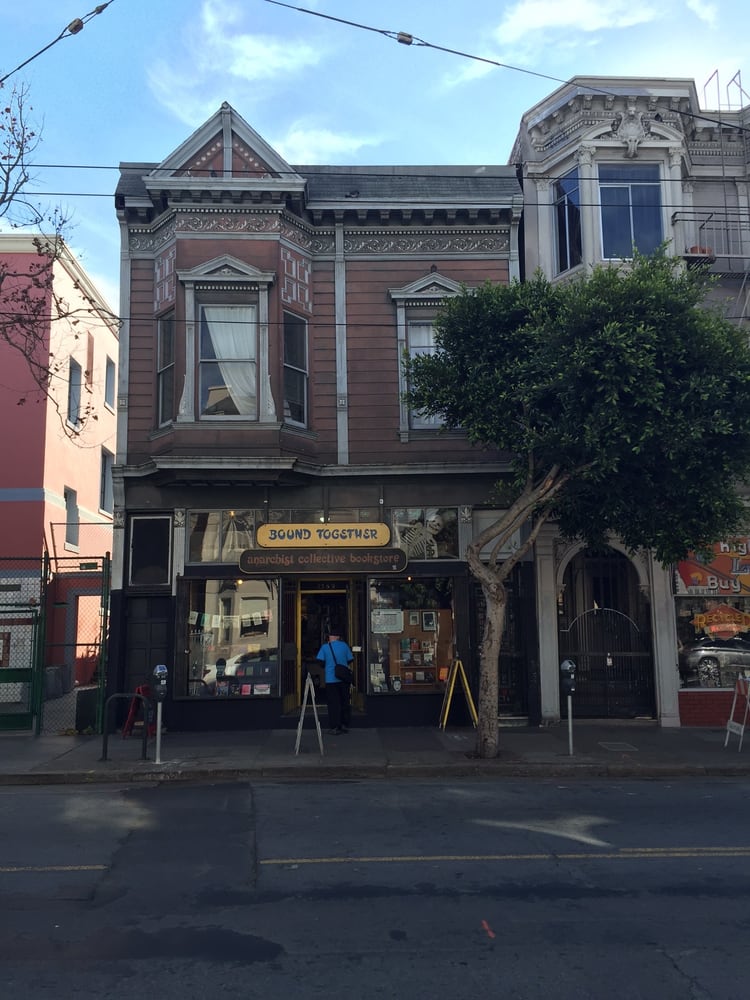 Like books? Like radical politics? Checkout out the collectively run anarchist Bound Together Books. Located in the Haight-Ashbury district, this bookstore holds a wonderful collection of radical literature, t-shirts, etc. This store has been around since 1976.
Bound Together is located in the Haight-Ashbury district of San Francisco.
Recommended song: See Through Their Lies by Crucifix.
The Long Haul Infoshop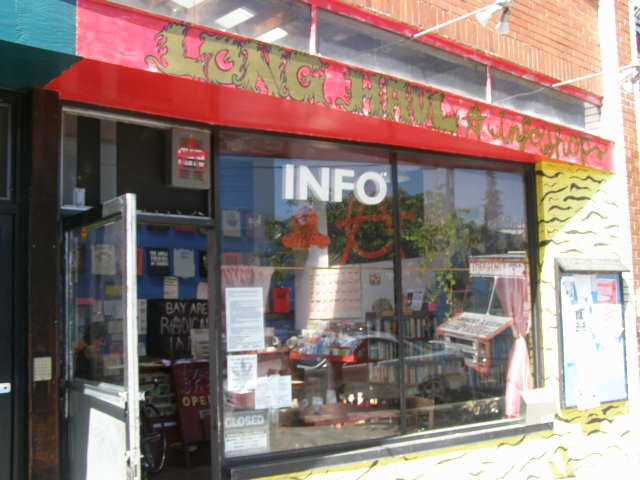 The Long Haul is an infoshop located in South Berkeley. It has a huge zine library, a book library, and regularly hosts events. It is also the space used by community and activist groups like Food not Bombs and the Slingshot collective.
Recommended song: Berkeley Is My Baby by Blatz.
Moe's Books
This is my favorite bookstore in the Bay Area. It's filled with great used books on all subjects. The store is larger than Bound Together and you can find some real gems there.
Moe's also works with the Prisoner Literature Project to collect books to send to prisons.
Moe's is located on Telegraph Avenue in Berkeley.
Recommended song: Butterflies by Crimpshrine. The lyrics are about a city growing and changing into something unrecognizable. Though the song was written in the 1980s, it is especially relevant today considering how rapidly the Bay Area has grown and changed in the last decade.
The drummer of Crimpshrine, Arron Cometbus wrote issue #51 of his famous zine about Moe's and the independent book stores of the East Bay Area. For those unfamiliar, Cometbus is the name of his zine. Started in the 1980s, it is one of the most influential zines to come out of Bay Area. You can find copies of the zine at Moe's.
Needles & Pens
Needles & Pens is a zine shop and arts space located in the Mission District in San Francisco.
Recommended song: November by J Church.
Clarion Alley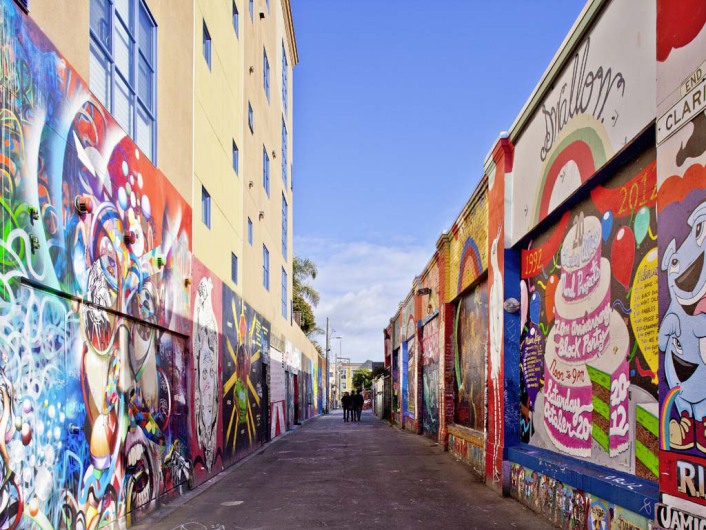 The Mission District is the most punk district in San Francisco. Rent used to be cheap, good burritos were found on every corner, and the cops had other things to do than break up shows. A lot has changed due to gentrification, but the Mission District is still one of the best parts of San Francisco.
Along with getting food, and hanging out in Dolores Park, make sure to walk through Clarion Alley.
Clarion Alley is an alley filled with beautiful graffiti, a lot of it political. Keep your eye out for art references to legendary Mission punk band Hickey or their vocalist Matty Luv.
Recommended song: El Farolito by Hickey. A Mission band singing about a Mission burrito shop. (The story I heard was that a member of the band got jumped and stumbled into El Farlito, where the workers took care of him.)
Thrillhouse Records
If you like records, be sure to visit Thrillhouse Records.
Thrillhouse is a non-profit punk record store and show space. If you want records, show information, or to meet some real life San Francisco punks, this is your spot. The shop is located in the Mission District.
Recommended song: All the Girls Here by Songs For Moms from their I Used To Believe In The West album, put out by Thrillhouse Records.
1-2-3-4 Go Records
1-2-3-4 Go is a record label that has two store fronts, one of which puts on shows. The record stores are located in San Francisco and Oakland, with the Oakland location having an area for bands to play. A lot of the Oakland shows are on weekdays and end early enough to catch public transit, which is nice.
The San Francisco store is located in the Mission District about 20 minutes north of Thrillhouse Records. The Oakland store is located in the trendy Temescal district.
Recommended song: Muppet Babies by Shannon And The Clams. 1-2-3-4 Go Records put out this song on a 7-inch.
924 Gilman Street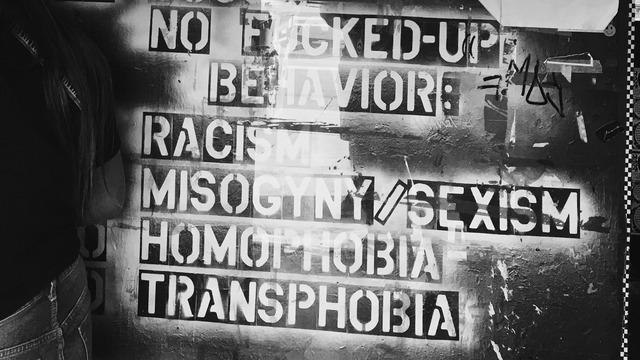 You've probably heard about this Berkeley punk club, and it would be wrong not to include it on this list. 924 Gilman Street is a space that has existed since the late 1980s. It is volunteer run, non-profit, and all ages. Shows usually happen on the weekends, and sometimes the space is used for other things during the week, such as Narcotics Anonymous meetings.
Originally, the surrounding neighborhood was an industrial area, so there wasn't anyone around on weekend evenings when the punks would gather. Today, the area is filled with retail stores, breweries, and fancy super markets (the Whole Foods a block away has a drink named "The 924 Gilman").
Though the neighborhood has changed, the club itself remains largely the same as it always has. There's graffiti inside the building, a simple stage for bands to play on, and volunteers trying to keep things organized.
Recommended Song: Mr T Experience - Gilman Street.
The Secret Sidewalk and/or Drawbridge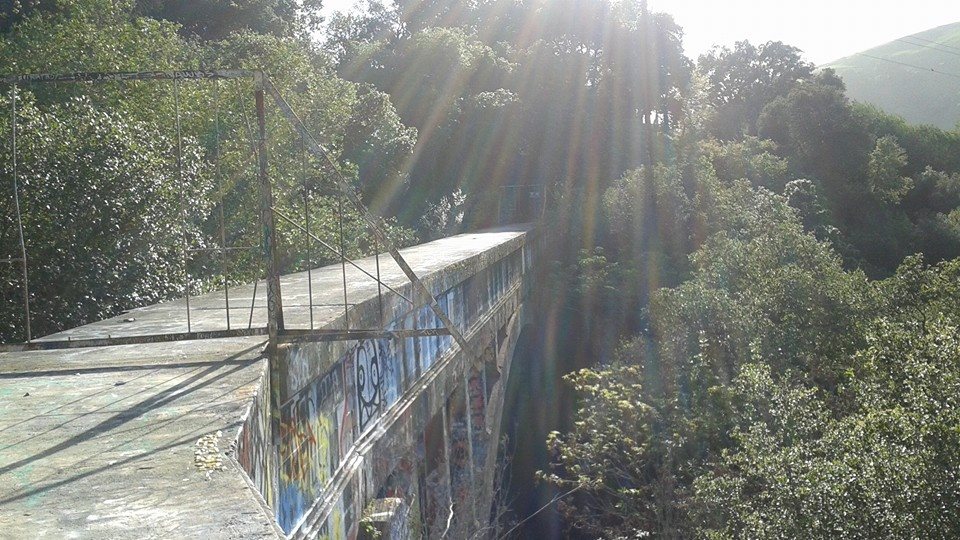 Fremont California is definitely not a very punk rock place. There are no clubs, no shows, and probably very few bands from there. But it is still a place where adventurous punks from other parts of the Bay go and visit.
There are really three reasons to go down to Fremont: good Indian food, the Secret Sidewalk, and Drawbridge.
The Secret Sidewalk is an abandoned aqueduct that stretches from the border of Fremont into the surrounding hills. You can walk along the concrete aqueduct through some very pretty open space to find an abandoned factory and some cool water towers. There are train tracks that run parallel to the sidewalk. The sidewalk itself is covered with graffiti. If you like urban exploration, this is a fun place to check out.
After you are done exploring the secret sidewalk, you may want to stop by Needle To The Groove Record Shop in nearby Niles. It doesn't have much in terms of punk records, but the prices are good and you may find a gem that you've been searching for.
On the other side of Fremont is Drawbridge. This is a ghost town next to the bay. It used to be a stop along a railroad line, but once that railroad stopped running the residents left the area. What remains are some wooden structures next to a railroad line and marsh land.
Like the secret sidewalk this is a neat little (sub)urban exploration area that might be fun to try to find.
Drawbridge and the creek near the secret sidewalk were both popular railroad destinations years ago.
Note, Neither are legally open to the public.
Recommended Song: Honey In The Hair by Blackbird Raum. An acoustic Santa Cruz band favored by train hopping punks seems appropriate for visiting places civilization abandoned.
Cosson Hall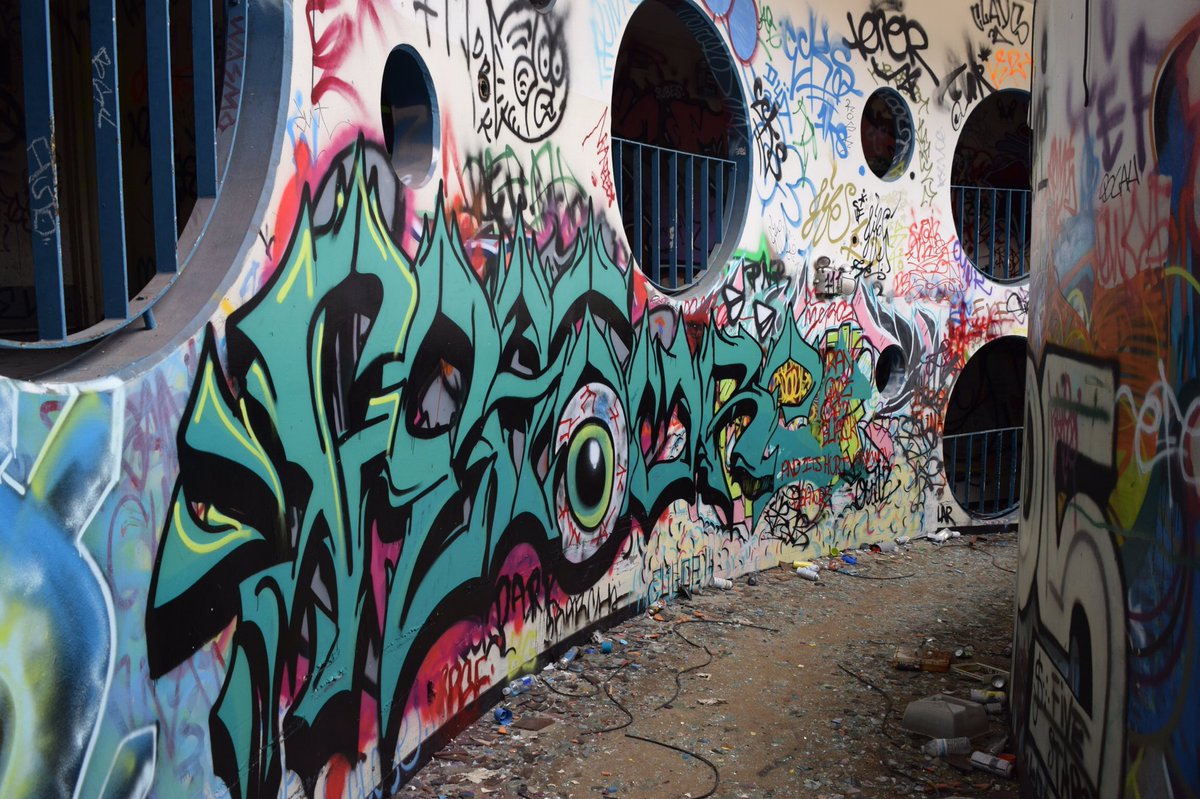 If you like exploring abandoned buildings filled with graffiti, Cossom Hall is a great place to go. It's located on a former army base on Treasure Island, which is the island that the Bay Bridge runs to between San Francisco and Oakland. The army base is no longer a presence there, and Treasure Island is mostly residential housing. However, Cosson Hall is a multi story building with tons of great graffiti to explore. It's one of many abandoned buildings on Treasure Island. You can check out many of the Bay Area's graffiti artists' work there. The easiest way to get to Treasure Island is taking a public bus from San Francisco or riding your bicycle across the Bay Bridge from Oakland.
Note that it is illegal to go into the abandoned building without permission.
Recommended song: Crush, Kill Destroy by Spazz.
The Albany Landfill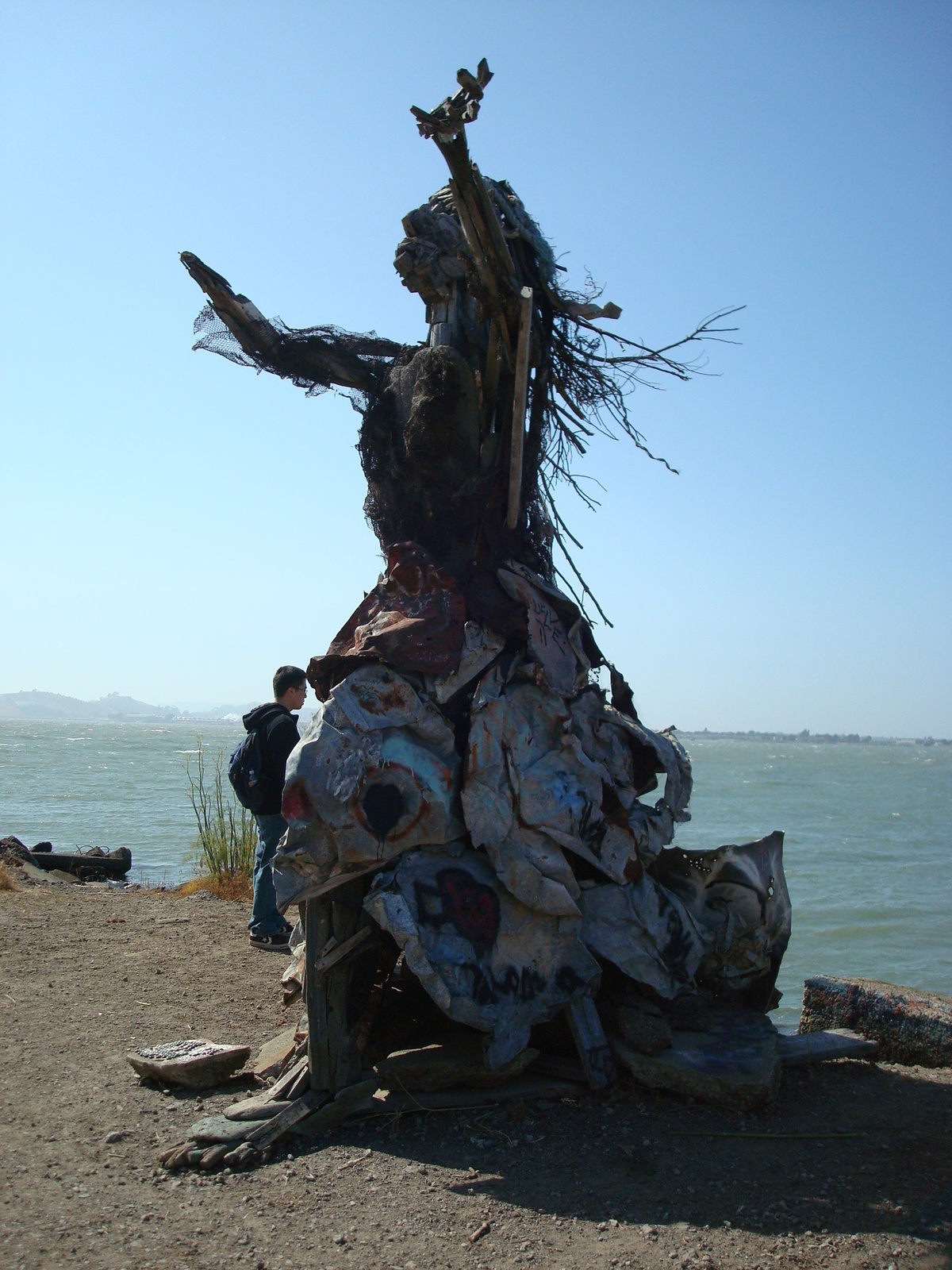 Also known as the Albany Bulb, this is a landfill created by filling up the water of the bay. Trash has not been dumped here in decades and the area has turned into a park. You will often find locals walking their dogs next to the water. However, the Albany landfill is much more than just a park with nice bay views.
Because the bulb was created as a landfill, it was not an official park for many years. This led to a lack of regulation and oversight by government officials, which in turn led creative individuals to build sculptures, art installations, and even a tiny castle on the land.
This land has also been used by the local homeless population as a place to set up their tents. Often this leads to confrontations with the police and local government, who attempt to clean out the area on a regular basis.
Sometimes, punks haul generators out to the landfill and put on free shows.
The Albany landfill was a kind of autonomous area that the City of Albany ignored for many years. You can go there today and walk along the water enjoying the view and the sculptures.
The landfill is located in the City of Albany, along the water. It's about an hour walk from the El Cerrito BART station.
Recommended song: Berkeley Pier by Tilt.
One of the Many Worker-Owned Cooperatives
The Bay Area has so many worker owned cooperatives that they formed the Network of Bay Area Worker Cooperatives (NoBAWC, pronounced "no boss"). They provide a map and list of all the network's member cooperatives. This is a great resource for finding non-hierarchical businesses.
Looking to eat some pizza? Try The Cheese Board Collective in Berkeley. This worker owned cooperative has been operating since 1971. Every day they serve a different vegetarian pizza. Cheese Board also donates a lot of their food, including their left overs to groups like Food not Bombs.
Long before Whole Foods came to San Francisco, there was worker-owned Rainbow Grocery.
Arizmendi Bakery is another long established worked owned cooperative. They have a number of locations in the East Bay and also a location in the Mission District of San Francisco.
Along with these and other bakeries, NoBAWC members include bike shops, grocery stores, a landscape company, a bar, and cafes.
See A Punk Show
If you are looking for shows to go to, check out The List.
Not only does the Bay Area have The List, which is an amazing resource for finding local shows (thanks Steve!) we also have a punk rock info line. If you call 510-BAD-SMUT you will get a voice message telling you about some of the cool happenings in the Bay.
Visit Other Record Stores
Amoeba and Rasputin's are two other record stores worth visiting. Both have locations in downtown Berkeley and in the Haight-Ashbury district of San Francisco.
More
Still looking for cool places to go? Check out the people's guide to the Bay Area where you will find locations in the Bay Area that relate to radical history.
We also created a map of venues for the Bay Area. It's a useful resource if you are looking for a show near you.
The Bay Area is home to an annual zine fest, and anarchist book fair. Oakland hosts Burger Boogaloo a big music festival.
The Bay Area is a big place, there is usually something cool going on. I hope this list helps you discover something interesting.