Ten Classic Anarcho Punk Shirts
Since Crass adopted the classic black and white stencil letters, anarcho punk has had a district look and feel. These political punk bands use graphics and art to promote their music and their message. From the clever to the offensive, these classic anarcho punk tshirts are some of the most recognizable in punk.
The best place to look for these shirts is at your local punk venue or record shop. If you don't have one of them, then the next best place is ebay. There's a lot of DIY screen printing punks who sell stuff on ebay.
Here are ten iconic anarcho punk band shirts (or patches):
Crass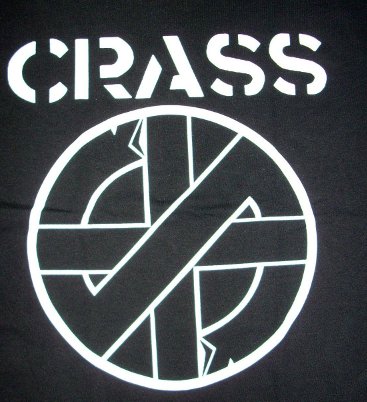 Crass is the original anarcho punk band. The are the band most responsible for the aesthetics of anarcho punk. The simple, white stencil font on a black background was their doing. It's been copied by thousands of bands, advertisers and imitators. you cannot go wrong with this shirt.
The cross in a circle is a traditional fascist symbol. By adding a diagonal line through the heart of this symbol Crass shows their militant anti-fascism. This anti-fascist symbol continues to be used today in demonstrations and by the antifa movement.
You cannot get more classic than a Crass shirt.
Conflict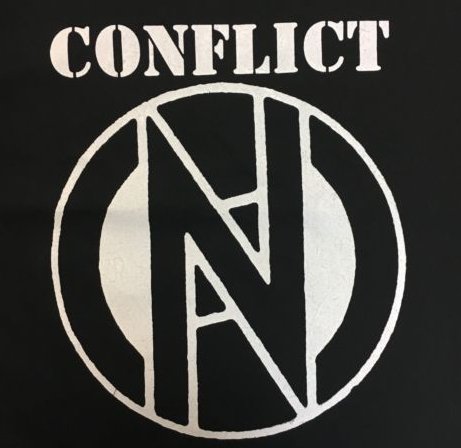 Like Crass, conflict is an old British anarcho punk band. They were formed a bit after Crass, and actually had one of the members of Crass join Conflict. The band is one of the most well known and political anarcho punk bands.
The classic Conflict symbol is the circle N, similar to a squatters circle N, though missing the arrow that squatters traditionally add to their N.
Amebix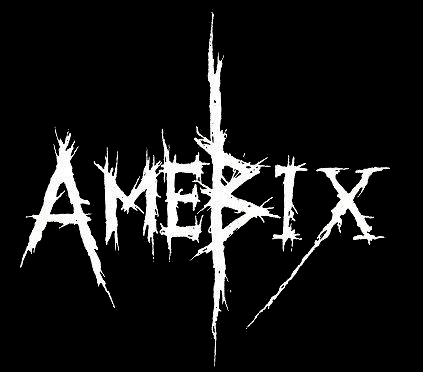 Amebix formed a year or two after Crass. However, their music evolved into a mix of anarcho punk and heavy metal. This blend would later become crust punk, which is also highly political. Amebix are extremely influential for both punk and metal bands.
The Amebix logo is a classic and can be found on patches of both punk rockers, crusties and metal heads worldwide. The symbol steers away from the block letters used by Crass and Conflict and instead creates a scratched out letter aesthetic.
Subhumans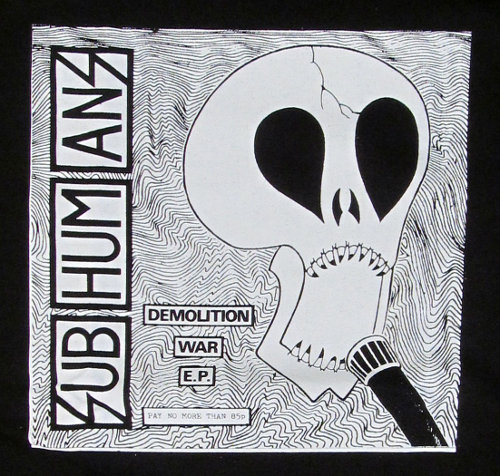 Most of the classic anarcho punk bands are from the UK and the Subhumans are no exception. They were formed in 1980 and continue to (rarely) play shows to this day.
Their skull logo was more picturesque than other anarcho punk bands of the time. It was one of early attempts at symbolism to spread a message rather than making the political implications of a shirt explicit. Remember that at the time a predominant fear was a nuclear war and the idea that the kids had no future. That they were already dead.
Discharge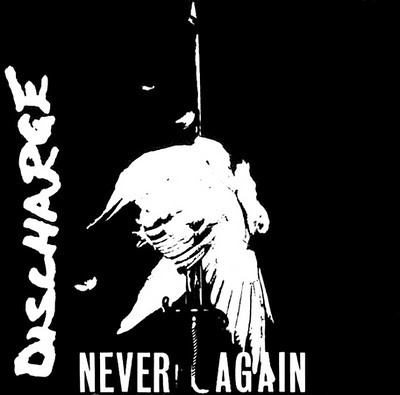 Discharge is another explicitly anarchist punk band that went on to influence a large amount of metal bands. A distinct style of punk called D-beat is characterized by bands imitating Discharge, specifically their drum beat. The chainsaw grinding Discharge sound has also had an influence on genres such as black metal, grind-core and thrash.
The cover of their Never Again album features a black and white version of a poster by John Heartfield. The image shows the white dove of peace being stabbed by a Nazi bayonet. The poster was a statement again the appeasement of the Nazis by the European powers. This image continues to be a popular tshirt.
Aus Rotten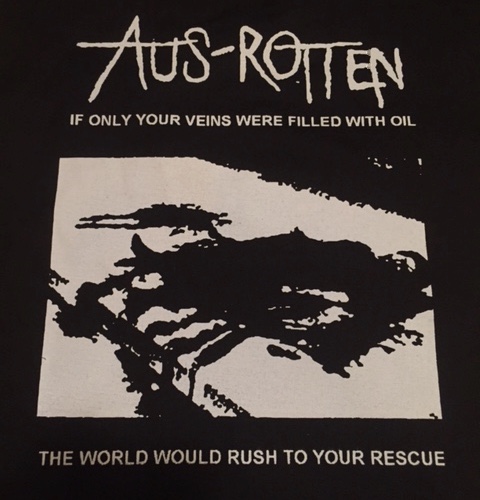 Aus Rotten is a more modern anarcho punk band from the United States. They were one of the most popular bands in the 1990s anarcho punk scene. The band is known for a number of songs and images, including "fuck Nazi sympathy" and "what good is money, when there's no one left to buy".
My personal favorite image is their "if only your veins were filled with oil the world would rush to your rescue" shirt/patch. This is especially insightful as it precedes the invasion of Iraq by George W Bush and a number of other Middle East conflicts. It is one of the more clever ways of pointing out how little human life matters compared to how much money matters.
MDC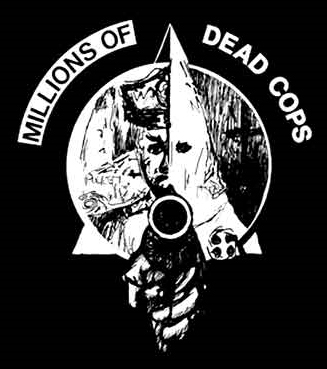 MDC stood for a lot of things, but the most well known was Millions of Dead Cops. This band formed in Texas in 1979, but ended up moving to San Francisco. The band is well known for their leftist politics and song lyrics which clearly criticize American culture. This includes songs such as "John Wayne Was a Nazi" and "Violent Rednecks". The band changed what MDC stood for with each record release.
If you are looking for a shirt that mainstream society will hate, look no further than the Millions of Dead Cops shirt. It features a police officer/klans man pointing a gun. Sadly, with the ongoing police murders of young black men in America this imagery is just as relevant as it was decades ago.
Doom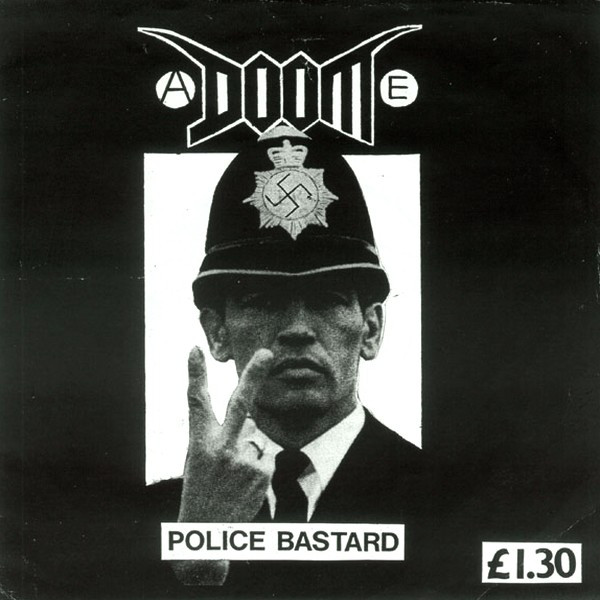 Doom was a short lived British band who are one of the founders of crust punk. This form of punk combined anarcho punk and metal and is a big influence on grindcore. Doom continues to be a very popular band among crusties.
This image is similar to the MDC one above in that it is clearly anti-police and implies the racist nature of the police, however the cop is British.
Filth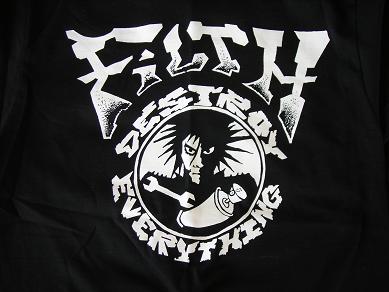 Filth were a Bay Area punk band. I wouldn't classify them as anarcho punk but they get a mention on this list because of the great imagery they produced. One of my favorite shirts growing up was their "destroy everything" shirt.
Filth were masters of nihilistic style punk imagery.
Los Crudos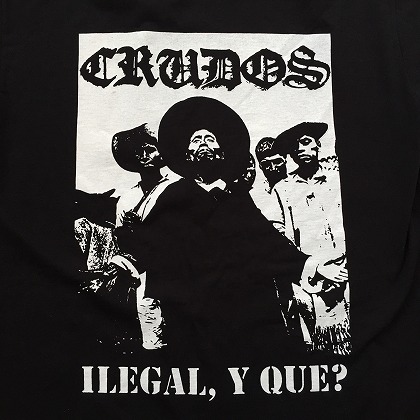 Lost Crudos were a Latino hardcore band from Chicago. Agian, not anarcho punk, though clearly political.
I add them to this list because they have my single favorite shirt image. It's the "ilegal, y que?" shirt. Translated this means, "illegal, and what?" and is obviously a reference to illegal immigration. It implies a very punk rock "I don't give a fuck" attitude.
There's a ton of other anarcho punk bands out there, with great political messages. These are just a few of the classics.